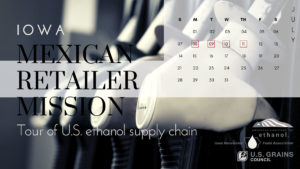 Representatives from the American Coalition for Ethanol (ACE) and Iowa Renewable Fuels Association are leading Mexican retailers on a tour across Iowa this week to see how U.S. ethanol is made, distributed, and sold. The groups are working with the U.S. Grains Council (USGC) in an effort to show Mexican retailers the opportunities for sourcing, marketing, and retailing ethanol-blended gasoline as Mexico's transportation sector evolves and they implement blends up to E10.
The trade mission group will visit a farm, ethanol plant, fuel terminal, bulk fuel storage facility and terminal, and a handful of retail and convenience store stations. In addition to tours of these locations, Mexican marketers will get the opportunity to sit down with key representatives of the businesses and gain information they can use in their own operations in Mexico. The tour will also include meetings with a design, construction and equipment installation company for retail stations and bulk storage facilities, as well as meetings with several ethanol marketers from across the region.
The tour is happening in Iowa this week as the 2019 BIO World Congress on Industrial Biotechnology is being held in Des Moines.