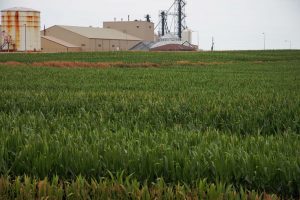 Sens. Chuck Grassley (R-IA) and Dick Durbin (D-IL), with a bipartisan group of senators sent a letter this week urging the EPA to update an outdated environmental analysis on ethanol in order to improve foreign sales opportunities.
Peer-reviewed science conducted by the U.S. Department of Agriculture (USDA) has affirmed U.S. ethanol lowers greenhouse gas emissions between 39 to 43 percent better than gasoline. EPA has rejected all calls to update these calculations, instead using data that is nearly 10 years old, which ignores the technological advancements in ethanol production.
Along with Durbin and Grassley, the letter was also signed by Sens. Joni Ernst (R-IA), Tina Smith (D-MN), John Thune (R-SD), Tammy Baldwin (D-WI), Roy Blunt (R-MO), Amy Klobuchar (D-MN), Tammy Duckworth (D-IL), Deb Fischer (R-NE) and Josh Hawley (R-MO).
The senators urged EPA to adopt the scientific model, "Greenhouse gas and Regulated Emissions and Energy Use in Transportation," or GREET, developed by Argonne National Laboratory. American Coalition for Ethanol (ACE) CEO Brian Jennings says current data from the GREET model indicate that corn ethanol's carbon intensity is almost 50 percent less than petroleum gasoline providing significantly more GHG reduction benefits than when the RFS was enacted a decade ago.
"Last year, ACE published "The Case for Properly Valuing the Low Carbon Benefits of Corn Ethanol" recommending, as is stated in the Senators' letter, that EPA refer to the latest U.S. Department of Energy GREET model for life cycle analysis of corn ethanol," said Jennings. "One of the most direct ways to capitalize on agriculture's ability to mitigate GHG emissions is to properly acknowledge the role U.S. farmers and ethanol producers are playing to dramatically reduce life cycle GHG emissions from corn ethanol by improving efficiencies, investing in technologies, and adopting sustainable agricultural practices."
Read the ACE White Paper and learn more about it in this interview with former ACE President Ron Alverson, Dakota Ethanol, one of the primary authors of the report –
Interview with Ron Alverson, Dakota Ethanol