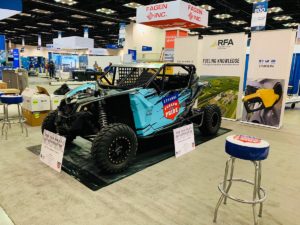 During the Fuel Ethanol Workshop (FEW) this year the Renewable Fuels Association featured a racing Can-Am X3 (2018 model) which has been converted to running on E85. This beautiful vehicle wrapped with the RFA's "Fueled With Pride" image, has been racing this season. The extra horsepower provided by the E85 fuel has provided a performance boost as you'll hear RFA's Robert White say in a conversation I had with him (listen below). TIDD Racing is the team racing the Can-Am and they loaned it to RFA for the FEW.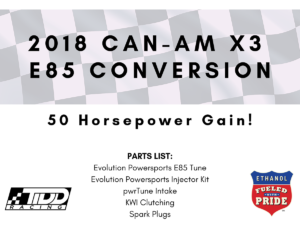 Robert says that TIDD Racing contacted him to discuss opportunities for more horsepower and torque. So they did some research on companies doing E85 conversions and found Evolution PowerSports who had a pretty simple solution. Robert says the conversion gave the Can-Am an extra 50 horsepower! To promote it at FEW he says they gave away 1,000 t-shirts.
Besides the Can-Am in the RFA booth Robert says the organization was very involved in the Fuel Ethanol Workshop program.
Geoff Cooper, RFA CEO, gave the opening keynote address
Robert was featured in an Association Roundtable: A Look at Our Industry's Health, the Strength of Its Policy Foundation and the Best Path Forward to Growing Our Market. He also moderated a panel: Building a Plant Culture that will Attract and Retain Top Talent
Kelly Davis moderated a panel: Positioning Your Plant Now to Maximize the Coming Opportunities in Low Carbon Fuel Markets and Carbon Sequestration
And as we reported previously, Missy Ruff received the TRANSCAER 2018 Chairman's Award
You can listen to my interview with Robert here: Interview with Robert White, RFA