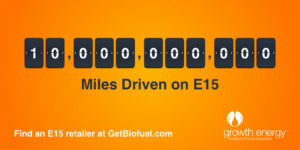 Just after the Environmental Protection Agency (EPA) announced approval of year-round sales of E15, Growth Energy recognized that United States drivers have now logged 10 billion miles on the road using the E15 blend.
Growth Energy CEO Emily Skor was among many who attended President Trump's visit to Southwest Iowa Renewable Energy (SIRE).
"This is a great day for Iowans," said Skor. "It's a great day for American drivers and rural Americans across the country. I am thrilled to be here on behalf of ethanol producers to thank the President for following through on a promise he made. He said he would make sure the EPA gave us year round access to E15, that they would do it in time for the summer driving season. They met that deadline and so we're very happy to be here."
Skor said while the group is thankful for the E15 announcement, there is more work to be done including addressing small refinery exemptions, upcoming renewable volume obligations numbers, and the significant need for access to markets on the global trade front.
Interview with Emily Skor, Growth Energy