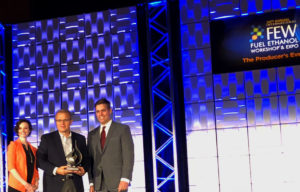 Steve Vander Griend, Technical Director of the Urban Air Initiative, received the High Octane Award this week at the Fuel Ethanol Workshop (FEW). The High Octane Award is presented each year by BBI International and Ethanol Producer Magazine to a person whose passion and unstoppable pursuits have significantly benefited the ethanol industry.
Vander Griend was recognized for his dedication and passion to learn and educate the industry about the technical and regulatory details related to fuel and ethanol. Thanks to his attention to detail, the ethanol industry is better educated about issues with the MOVES Model, the importance of splash blending and how real world driving conditions and fuels are key to accurately reflect ethanol emissions.
"It is an honor to receive this award, as many people know, I'm just a little passionate about the benefits of ethanol. It is a great fuel and has a great story to tell," said Vander Griend.
Vander Griend was nominated by his peers and selected as the winner by previous recipients of the High Octane Award.