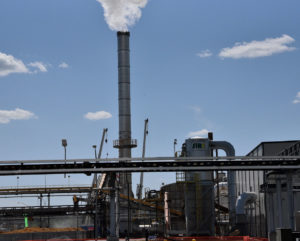 President Donald Trump will visit the Southwest Iowa Renewable Energy (SIRE) ethanol plant later this afternoon and the Renewable Fuels Association is ready to welcome him and thank him for supporting farmers and the industry.
SIRE, an RFA member company, operates a state-of-the-art ethanol biorefinery that produces approximately 130 million gallons of high-octane fuel ethanol per year, along with more than 360,000 tons of nutrient-rich animal feed. Mike Jerke is the company's CEO and represents SIRE on RFA's Board of Directors.
In anticipation of the President's visit, RFA President and CEO Geoff Cooper stated, "We look forward to joining Mike and the entire SIRE team in welcoming President Trump to America's heartland, and we thank the President for keeping his promise to remove the unnecessary and ridiculous regulatory barrier that prohibited the summertime use of E15 in most of the country. President Trump understands that ethanol plants like SIRE are important economic engines in rural America, supporting good-paying jobs and bolstering the farm economy. And he knows ethanol reduces prices at the pump, plays a key role in American energy dominance, and helps clean the air we breathe. I can say without hyperbole or exaggeration that without President Trump's personal interest and advocacy on year-round E15, this critical regulatory reform would not have happened. We are thrilled to have President Trump visit Iowa, so we can personally thank him for his commitment to our nation's ethanol producers and farmers."
AgWired is in Council Bluffs for the event today and interviewed Cooper as they were making preparations.
Interview with Geoff Cooper, Renewable Fuels Association: Interview with RFA CEO Geoff Cooper