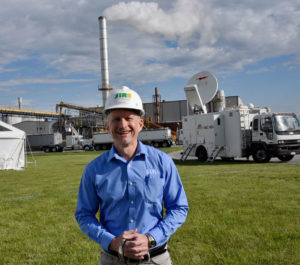 Southwest Iowa Renewable Energy (SIRE) CEO Mike Jerke is honored to be able to host President Donald Trump today as he appears to celebrate the easing of restrictions on sales of 15% ethanol in the summer time.
"The employees and owners of SIRE are very proud of what we have accomplished here," says Jerke, who serves on the board of the Renewable Fuels Association. "This plant has helped to revitalize southwest Iowa, providing economic opportunity and a new market for local farmers. The year-round use of E15 will create even more long-term value for our fuel while further lowering prices at the pump. We are grateful for President Trump's leadership and determination to remove this burdensome regulatory barrier."
The president is expected to tour the plant and make remarks around 3:00 pm central time today.
Jerke talks about preparations for the presidential visit and why it is important for farmers and the ethanol industry: Interview with SIRE CEO Mike Jerke