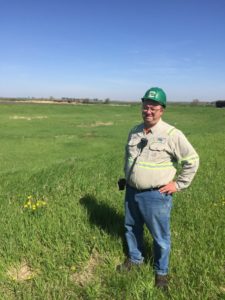 Western Iowa Energy is adding a Monarch Fueling Station to the site of its Wall Lake plant.
The monarch habitat will span roughly four acres. The plant will start the process by spraying to eradicate non-native grasses this June and in late fall. They plan to do a dormant seeding of native plants and milkweed in the field in early November.
"Biodiesel production is all about turning the seemingly useless into something useful," said Kevin Bieret, Operations Manager of Western Iowa Energy. "We transform agriculture coproducts into green fuel. We see this Monarch Fueling Project as a new way to do that again, by turning something we have to mow into habitat to help fuel monarch butterflies."
The location and size of the plot was decided in consultation with Kevin Reynolds, the Iowa Renewable Fuels Association's Habitat Establishment Coordinator.
"It's exciting to see the reach of this project grow," Reynolds said. "More and more biofuels plants are stepping up to be leaders in the statewide effort to establish monarch habitat and protect this important pollinator. Considering the fact that the whole state of Iowa is in the monarch butterfly migration path, each plot can make a difference."
The Monarch Fueling Station Project was established by IRFA in partnership with the Iowa Monarch Conservation Consortium in December 2017. It is a program to help Iowa's ethanol and biodiesel plants establish patches of monarch habitat on plant grounds. To learn more about the IRFA Monarch Fueling Station Project, contact IRFA at info@IowaRFA.org or 515-252-6249.