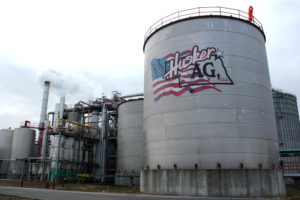 Husker Ag LLC in Plainview, Nebraska recently produced its one-billionth gallon of ethanol, a milestone noted by the Renewable Fuels Association (RFA).
"I couldn't be more proud of the work that the staff has delivered over the last three years to achieve the goals set forth by the Board of Directors to increase gallons, improve our yield and lower our energy per gallon," said Seth Harder, Husker Ag general manager and Renewable Fuels Association board member. "Hitting the billion-gallon mark is just the type of milestone achievement that commemorates all our hard work. I'm very proud to have been a part of this company since 2002."
Husker Ag began production in 2003 and expanded its production capacity in 2007. Today, the company produces more than 300,000 gallons of ethanol per day.