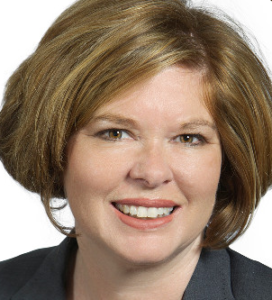 Effective September 1, Carol Kitchen will be GROWMARK's Vice President, Energy and Logistics.
"I am truly honored to have been chosen to lead GROWMARK's Energy and Logistics divisions," Kitchen said. "As a native of central Illinois and having spent several of my early career years in the GROWMARK System, this is a career opportunity for me and one I'm extremely excited about."
Kitchen is currently CEO and President of United Farmers of Alberta (UFA), a CDN$1.7 billion western Canada cooperative serving more than 110,000 Alberta members and commercial accounts in the petroleum and agriculture market segments. In the 1990s, she held positions GROWMARK's internal auditing (Bloomington, Ill., office), and in Canadian accounting operations (Ontario office). Kitchen also has held roles at Land O' Lakes, including senior vice president, corporate strategy and business development, and senior vice president and general manager, global dairy ingredients.
Carol holds a Bachelor of Science degree in accountancy from the University of Illinois. She is a Certified Public Accountant and earned an MBA from the University of Minnesota Carlson School of Business. Carol and her husband, Jim, have a son, Jack.
Jim Spradlin, GROWMARK CEO, heralded Kitchen's nearly 30 years of global, multi-channel experience including business unit management and strategy development. "At UFA, Carol drove the organization to be as customer-focused as possible, delivering growth across all platforms, while consistently improving employee engagement, delivering a new IT operating platform, and improving customer satisfaction. We look forward to welcoming Carol to the leadership team."
Kitchen will replace Mike Builta, who passed away unexpectedly in April.