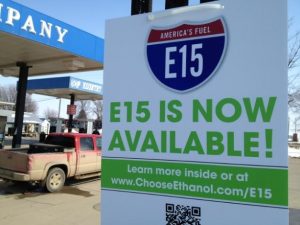 Ethanol industry stakeholders are thrilled with the U.S. Environmental Protection Agency's (EPA) final rule allowing retailers to sell gasoline containing 15% ethanol (E15) year-round.
"E15 already has a proven track record for saving drivers money at the pump and reducing emissions, and today's action will ensure that more Americans are able to enjoy those benefits. Year-round E15 will also provide a badly needed long-term demand boost for our industry and America's farmers, who face a number of daunting challenges today," said Renewable Fuels Association president and CEO Geoff Cooper.
The second part of the rule proposed by EPA regarding Renewable Identification Number (RIN) transparency was scaled back from the original proposal and will now require "public disclosure when RIN holdings exceed specified thresholds" while collecting "additional data to improve market transparency and enhance EPA oversight."
RFA CEO Geoff Cooper comments on E15 rule
National Corn Growers Association President Lynn Chrisp said, "Farmers are facing some tough times which makes this announcement particularly welcome. We thank President Trump for following through on his promise to rural America and USDA Secretary Sonny Perdue and supporters in Congress for their outspoken commitment to year-round E15."
"This move to approve the year-round use of E15 in time for the summer driving season provides consumers with more choices when they fill up at the pump, driving demand for our farmers and improving the air we breathe. While the Trump Administration and USDA are expanding the ethanol market in the United States, we continue to fight for more export markets in Brazil, Mexico, China, and other countries across the globe," said Secretary Perdue.
American Coalition for Ethanol (ACE) CEO Brian Jennings said, "We're grateful EPA kept the President's promise to get the rulemaking done on time and we will work to ensure retailers understand their hands are no longer tied by red tape preventing them from offering a lower priced, higher octane E15 fuel to their customers all year starting this summer. For the ethanol industry and farmers, this means greater market access — more ethanol demand over the long term as additional retailers begin offering E15."
ACE CEO Brian Jennings interview on E15 rule