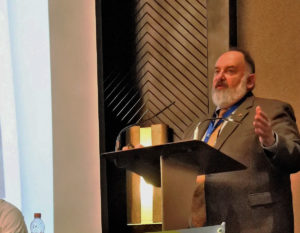 American Coalition for Ethanol (ACE) Senior Vice President Ron Lamberty continued his ethanol retailer education tour of Mexico last week with an encore appearance in Tijuana, the western-most city in Mexico and largest city of Baja California State. This trip marks Lamberty's fourth time to the country this year to speak at ethanol technical information forums for Mexican petroleum equipment installers and retailers, sponsored by the U.S. Grains Council (USGC) and the Mexican Association of Service Station Suppliers (AMPES).
"This is my eleventh marketer workshop with the U.S. Grains Council in the past year and a half, and the workshops, along with a multitude of other efforts in Mexico, are working," Lamberty said. "More Mexican retailers are buying ethanol–mostly E10 purchased at U.S. terminals and delivered to stations in the northern states, like here in Baja California–and interest is increasing all over the country."
Because it's only minutes from San Diego's fuel terminal, some Tijuana retailers are already selling E10, and the city is expected to be a top destination for U.S. ethanol in the short-run. Tijuana is also a major gateway to the interior of Mexico for road transportation, and by sea via the port of Ensenada. Fuel ethanol consumption in Mexico is still low, with its use as a transportation fuel not permitted until 2017 and lack of private infrastructure, but over 30 fuel terminals are currently under construction in Mexico. Mexico's refineries operate far below capacity, with 70 percent of the fuel sold in the country imported.
Lamberty has also spoke at ethanol technical forums in Tuxtla Gutiérrez, Monterrey, Mérida, Mexico City, Xalapa, Chihuahua, León, and Guadalajara.