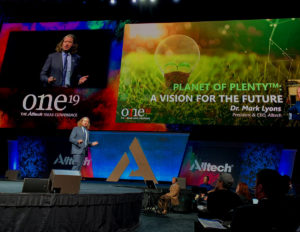 ONE: The Alltech Ideas Conference wrapped up Tuesday with president and CEO Dr. Mark Lyons sharing his new vision for the company and inviting more than 3,500 attendees to join in "Working Together for a Planet of Plenty

."
Thirty years ago, his father, Alltech's founder Dr. Pearse Lyons, took the stage at the same conference. He had committed Alltech to a guiding ACE principle, emphasizing the importance of delivering benefit to animals, consumers and the environment. He fervently believed that the well-being of each depended on maintaining harmony between all three. It was a radical idea at the time — so radical, that some customers walked out of the conference.
Yet, against a backdrop of diminishing natural resources, a changing climate and a growing population, sustainability is quickly becoming a non-negotiable for businesses and for agriculture. Every business and individual has a role to play, moving us closer to a planet of peril or of plenty.
"With the adoption of new technologies and management practices, and, most of all, human ingenuity, we believe a Planet of Plenty is possible," said Lyons. "Our Planet of Plenty vision propels our founding ACE principle into a new world of possibility, where anyone and everyone can make a positive impact on our shared planet."
A new website has been launched for the initiative. PlanetofPlenty.com provides examples of agricultural methods that can improve the environment as well as inspiring stories of the people and technologies making a planet of plenty possible. Stories can be shared on the Planet of Plenty website or on social media with the hashtag #PlanetofPlenty.
Listen to Dr. Lyons' closing remarks.
Alltech ONE19 Dr. Mark Lyons closing remarks
2019 Alltech Ideas Conference Photo Album
Find more content from ONE19 on the conference virtual newsroom on AgNewsWire.