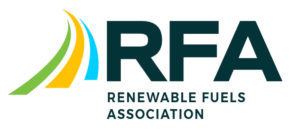 The Renewable Fuels Association (RFA) has a new look. The organization has unveiled a new logo complete with a fully rebranded web site.
Featuring fresh design elements, crisp imagery, streamlined content, and new information, the RFA site will serve as the go-to resource for renewable fuel advocates, policymakers, media, researchers, fuel retailers, students, consumers and others seeking the latest news and data about renewable fuels.
The new logo features an abstraction symbolizing the "road ahead." The image represents the ethanol industry coming together and forging a path forward that takes renewable fuels to new places and creates new opportunities.
The colors are carried over from the previous logo, with green representing both the environmental benefits of renewable energy and the plant-based materials that become renewable fuels; gold representing both energy from sunlight and our nation's bountiful grain harvest; and blue representing clean air, clean water, and the planet Earth.