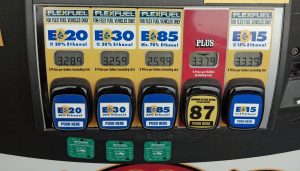 The Iowa legislature has funded another year of the Iowa Renewable Fuels Infrastructure Program (RFIP).
Commonly referred to as the state's blender pump program, RFIP provides cost-share grants to Iowa retailers wishing to upgrade fueling infrastructure to offer E15, E85 and/or biodiesel blends. The program has led to millions of dollars of private economic investment and hundreds of new stations offering biofuels at the pump.
The program's funding of $3 million for FY2020 was passed by the Iowa legislature this week.
"RFIP has accomplished exactly what it was designed to do, increase consumer fuel choice and promote private economic investment," said Iowa Renewable Fuels Association Managing Director Lucy Norton. "Another year of funding will ensure that more Iowa retailers can continue to build off of this success and driver access to Iowa's clean-burning biofuels will grow."
To date, RFIP has funded 782 projects for blender pumps, storage tanks, and other fuel infrastructure. Reimbursement can be up to 70 percent of the installation costs, up to a maximum of $50,000 per project, with a five-year commitment to sell E15, E85 or biodiesel blends.