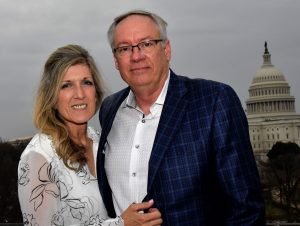 Phil Near and his wife Cheryl Werth Near were part of the American Coalition for Ethanol (ACE) annual DC Fly-in last week, participating for the first time and bringing their personal story about the health benefits and good value of ethanol to members of Congress.
The Nears operate ten Jump Start Convenience Stores in Kansas, offering their own brand of blended fuel to provide choice at the pump for their customers. Cheryl is a 10 year breast cancer survivor and an interior designer by trade who became an active ethanol advocate when she discovered all of the cancer-causing components in gasoline that can be replaced by using ethanol as a healthier alternative.
Listen to their story in this interview.
ACE19DC Interview with Phil Near and Cheryl Werth Near, Jump Start stores