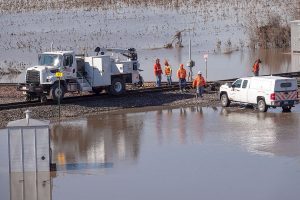 Repair crews are working around the clock to get roads and railways impacted by flooding in the Midwest back in service, while the latest weekly ethanol supply and demand numbers show production down due to the disaster.
According to the Renewable Fuels Association (RFA), ethanol production for the week ended March 22 fell 29,000 barrels per day (b/d), or 2.9%, to an average of 975,000 b/d, equivalent to 40.95 million gallons daily. This was the lowest production rate since the week ended Feb. 1, which in turn was the lowest level since Oct. 2017. The four-week average ethanol production rate declined 1.3% to 1.002 million b/d—equivalent to an annualized rate of 15.36 billion gallons.
Stocks of ethanol ticked up just a fraction to 24.4 million barrels but still represents a new record high.
Rail service remains disrupted in several states, including Nebraska and Iowa, and BNSF Railway reports employees and contractors working to repair track and restore service in areas that have experienced heavy flooding. BNSF has created a web page to address service disruptions and recovery operations in the Midwest after record flooding. It provides resources for customers affected by flooding, as well as a photo gallery for news media.