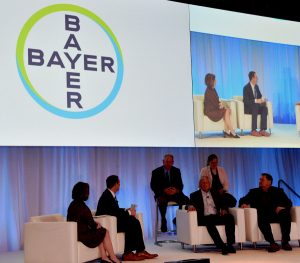 Farmer and Nebraska Ethanol Board member Scott McPheeters joined a diverse panel of agricultural producers at the recent Bayer AgVocacy Forum in Orlando, prior to Commodity Classic.
McPheeters shared the stage with California specialty crop producer Don Cameron, Terranova Ranch; South Carolina cotton and diversified crop farmer Jeff Wilson, Cotton Hills Farm; and Michelle Erickson-Jones, aka BigSkyFarmHer on Twitter, a livestock and grain farmer from Montana.
During the panel McPheeters was able to share his perspective with the forum attendees about the need to advocate for ethanol and correct misconceptions, such as that it takes more energy to produce than it creates. "That's a worn out, tired argument from 30 years ago," said McPheeters. "Just think what your cell phone technology was 30 years ago…oh wait, we didn't have them."
"It's like that with ethanol. It's all changed and we are doing more with less every day."
McPheeters noted that one acre of corn will provide fuel to drive your SUV (20 miles per gallon) 10,000 miles and have 8,000 pounds of livestock feed leftover – and also 160 pounds of oil.
Listen to the Grower Perspective panel –
Grower perspective panel
Listen to an interview from the forum –
Interview with Scott McPheeters, Nebraska farmer