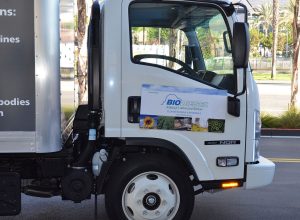 New research from NTEA – The Association for the Work Truck Industry confirms that fleets across the country are increasingly relying on the power and performance of biodiesel in their existing and new diesel vehicles. For the third time in four years, surveyed fleets named biodiesel as their top alternative fuel choice both for current use and future interest.
Each year, NTEA conducts a comprehensive Fleet Purchasing Outlook Survey to better understand the commercial vehicle landscape and give the entire work truck industry perspective on anticipated purchasing intent and areas of greatest interest to fleet managers. The new survey results for 2019 were announced last week at The Work Truck Show® held in conjunction with Green Truck Summit and Fleet Technical Congress in Indianapolis.
Specifically, the 2019 NTEA Fleet Purchasing Outlook revealed that the majority of fleet survey respondents – 76 percent – anticipate maintaining or increasing use of diesel engine-powered trucks in their fleets, and more than 33 percent of survey respondents acknowledged currently operating alternative fueled trucks in their fleets. Survey participants named biodiesel as their top alternative fuel choice at 16 percent. Additionally, biodiesel was named as their top choice for future interest at 14 percent.
The National Biodiesel Board credits the nation's growing interest in reducing carbon and greenhouse gas emissions from the transportation sector as indicators for future growth in the use of biodiesel. NBB featured the Chicago Park District's biodiesel fleet success story along with many others at the combined events of the 2019 NTEA's Work Truck Show, Green Truck Summit, and Fleet Technical Congress. Along with presenting an educational session on the Future of Diesel Technology and Biodiesel for Work Trucks, NBB partnered with Isuzu Commercial Truck of America to power its 2019 Isuzu FTR medium-duty truck with B20 biodiesel for The Work Truck Show Ride-and-Drive event. Also on display in the NBB booth was Cummins' new crated aftermarket diesel engine offering – the R2.8 Turbo Diesel – re-powering a 1972 Jeep Commando that was brought back to new life by NBB.