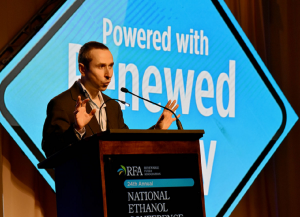 Although record ethanol production and political trade wars have presented challenges for the U.S. ethanol industry in recent months, an ethanol analyst speaking to participants at the National Ethanol Conference said the long term future for the industry looks strong.
"The good news – and this really transcends politics – is that all over the world, there is more and more implementation of what in this country we have been accustomed to for the last 14 years, which is a Renewable Fuels Standard," said Pavel Molchanov, Sr. VP and Equity Research Analyst, Raymond James & Associates.
While China will continue to be a big player in this space, new markets are emerging in places like Mexico and Ukraine that could represent important opportunities for U.S. ethanol producers. Carbon emissions is another area where ethanol will continue to important, as transport is now the number one source of emissions globally.
"To get US carbon emissions to continue to fall on a sustainable basis, transport has to play a role," said Molchanov. "There is undeniably a role for renewable fuels, both Gen 1 and advanced Gen 2 to play a role in decarbonizing in the U.S., and this will be just as relevant in other countries which is among the reasons why in the context of the Paris agreement, we see more and more jurisdictions implementing various biofuel blending mandates, even if they're not nearly as high profile as the one that comes out of Washington."
Even with electric vehicles growing market share, Molchanov believes ethanol demand will remain strong for at least the next decade, if not longer.
Listen to Pavel's complete presentation here: NEC19 Ethanol Market Outlook, Pavel Molchanov