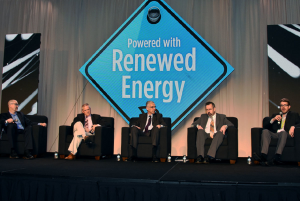 A panel discussion at the National Ethanol Conference tackled the topic of Ethanol's Role in Securing a Low Carbon Future.
California Air Resources Board Executive Officer Richard W. Corey weighed in, sharing that there is no single solution to reducing emissions, but that he believes ethanol has been and will continue to be part of the answer.
"From an air quality standpoint, transportation in California represents 50 percent of our GHG emissions, 80 percent of our NOx emissions, and 95 percent of our diesel emissions," said Corey. "We can't get to our health-based air quality targets, we can't get to our community-based safety standards, health-based standards in communities, or our GHG targets without effectively working in the transportation space."
Corey said there has to be a multiple focus strategy when dealing with air quality and climate challenges, and collaboration and partnerships will be key moving forward. Great Plains Institute Vice President Brendan Jordan said carbon capture is a current focus within the ethanol industry.
"Capturing CO2 from an ethanol plant and storing it offers anywhere from a 40 to 60 percent carbon intensity reduction. For those of you selling ethanol into the California market or another market that's involved in an LCFS or clean fuels policy, you know what economic value that can offer in addition to the economic value from selling the CO2."
Jordan said infrastructure is the next hurdle for carbon capture as pipelines are necessary to move CO2 from ethanol plants to places that can use it. He said this is another area where public/private partnerships will be necessary to ensure progress.
Both speakers were part of a larger panel that also included Stefan Unnasch of Life Cycle Associates and Jonathan Male with the U.S. Department of Energy.
Listen to the entire panel discussion here: Panel Discussion at National Ethanol Conference