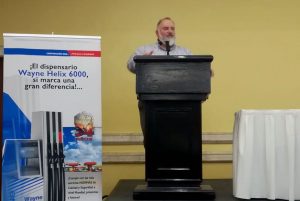 American Coalition for Ethanol (ACE) Senior Vice President Ron Lamberty traveled to Mérida, Mexico last week for the first ethanol technical information forum of the year for Mexican petroleum equipment installers and retailers. The forums are a joint effort of the U.S. Grains Council and the Mexican Association of Service Station Providers (AMPES) to inform Mexican petroleum marketers about opportunities in sourcing, marketing, and retailing ethanol-blended gasoline.
"These workshops continue to help more Mexican fuel marketers, equipment suppliers, and some government officials understand offering gasoline with 10 percent ethanol is a safe and economically sensible way to have cleaner air and provide less expensive options at the pump for drivers in Mexico," Lamberty said. "'The math' of ethanol blends is undeniably attractive for station owners and consumers right now, and our goal this year will be helping businesses learn how they can obtain and transport our product to places where it can be blended and delivered to stations. Fuel equipment companies say the workshops have inspired interest from retailers and prospective wholesale distributors of ethanol."
Located in the northwest part of the state of Yucatán, Mérida receives gasoline shipments at the port of Progresso, about 25 miles from the city. Lamberty visited six other Mexican cities in 2018 and will be doing more forums in the year ahead.
ACE will be attending the Commodity Classic this week in Orlando where they will be sharing information about this effort at their exhibit booth #2184 in the trade show.