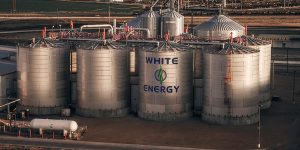 Global investment firm Strategic Value Partners and its affiliates ("SVPGlobal") has agreed to purchase food ingredient and ethanol businesses located in Kansas from White Energy, headquartered in Frisco, Texas.
The purchase includes two integrated plants in Russell, Kansas: the nation's largest vital wheat gluten manufacturing facility and one of the nation's most cost-efficient ethanol production facilities.
With an annual production capacity of 56 million pounds, the Russell gluten facility is the largest North American producer of vital wheat gluten, a plant-based protein used as an ingredient in a number of attractive and high-growth food markets including baked goods, pet foods, and vegetarian and vegan foods. Russell's premier food ingredient products, which will continue to be sold under the Heartland brand name, are purchased by many of the most iconic companies in the food and beverage industry.
The Russell ethanol facility, with a production capacity of 55 million gallons per year, is uniquely designed to consume the starch by-products generated at the adjacent gluten facility. As a result of that highly-efficient manufacturing process, the plant achieves some of the lowest unit costs in the ethanol industry, and is also rated as having the lowest carbon footprint of any facility of its kind in the United States by the California Air Resources Board. As a result, its production is sent to premium clean fuel markets where the plant receives attractive carbon credits.
Financial details of the agreement are confidential and the transaction is expected to close within 45 days.