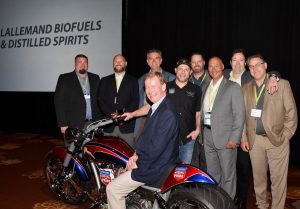 The custom E85 motorcycle commissioned by the Renewable Fuels Association (RFA) last year and featured on the Discovery Channel's American Chopper series was a big hit at the National Ethanol Conference last week, and so was the bike's designer Paul Teutul, Jr.
The patriotic-themed motorcycle has been all over the country since it was first unveiled last June, but it was the first time many RFA members had the chance to see it in person. Next week, the bike will pay a visit to the 2019 Commodity Classic at the RFA booth.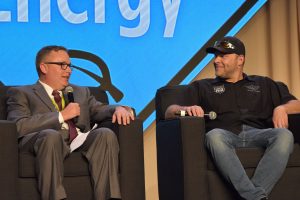 Paul Jr. sat down on stage with RFA Vice President of Industry Relations Robert White to talk about how the project was born and what he learned in the development process about ethanol.
"There's so many positive aspects of ethanol, from the way it supports farmers, the sustainability, the fact that we are making fuel here,…I was impressed from top to bottom," said Paul Jr. "Overall it was one of the best experiences I've ever had working with a client."
Listen to their conversation here:
NEC19 Paul Teutul Jr. conversation