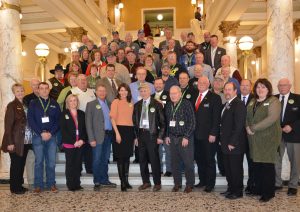 Farmers, ranchers and ethanol supporters from around South Dakota gathered in gathered in the state capitol of Pierre yesterday to advocate for agriculture and celebrate E30 day with Governor Kristi Noem.
Glacial Lakes Energy Cooperative members joined the South Dakota Farmers Union (SDFU) at the Capitol to thank Governor Noem for proclaiming February 19 as E30 Day in South Dakota and for her continuing support of the ethanol industry. During her State of the State Address, Noem committed to fueling the state's fleet with E30.
"Farmers Union has been a strong partner in helping us advocate for higher ethanol blends because it's good for South Dakota's family farmers, ranchers and rural communities. And, let's not overlook the clean air and health benefits," explained Jim Seurer, CEO Glacial Lakes Energy Cooperative, pointing to a recent study, conducted by the consulting group Life Cycle Associates and commissioned by the Renewable Fuels Association, that finds greenhouse gas reductions from the use of biofuels has exceeded what the U.S. EPA has predicted by 37 percent.