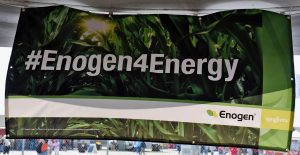 Syngenta has signed a three-year marketing agreement with Kansas Ethanol, LLC to use Enogen® corn enzyme technology at its 80 million-gallon ethanol plant in Lyons, Kansas.
Enogen corn enzyme technology is an in-seed innovation available exclusively from Syngenta and features the first biotech corn output trait designed specifically to enhance ethanol production. Using modern biotechnology to deliver best-in-class alpha amylase enzyme directly in the grain, Enogen corn eliminates the need to add liquid alpha amylase and can help an ethanol plant significantly reduce the viscosity of its corn mash, improving plant performance. Numerous trials have shown that Enogen hybrids perform equal to or better than other high-performing corn hybrids.
Enogen corn will provide the Kansas Ethanol facility with an industry-leading enzyme for enhanced ethanol production, while also supporting local growers and the community. The Kansas Ethanol facility will be accepting its first load of Enogen grain this fall.
Farmers who grow Enogen corn are eligible to earn an additional premium per Enogen bushel. To date, more than $100 million in premiums have been paid to Enogen growers. According to data from Iowa State University, these premiums create an additional $63 million in economic activity for a total of $163 million in cumulative economic benefit to the region.