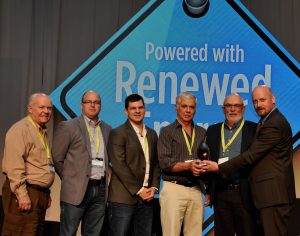 The Renewable Fuels Association (RFA) presented its annual Industry Award to East Kansas Agri-Energy (EKAE) – and a special recognition award to former RFA president and CEO Bob Dinneen – at the 24th annual National Ethanol Conference (NEC).
RFA's Industry Award recognizes companies or individuals who have made a significant contribution to the U.S. fuel ethanol industry through technology innovative, market development, consumer education, policy advocacy, and other efforts. Open since 2005, EKAE is a 48 million gallon per year ethanol plant and renewable diesel biorefinery in Garnett, Kan.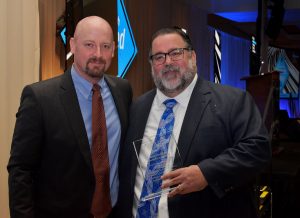 The RFA staff was successful in surprising Bob Dinneen with a special award for his 30 years leading the organization. Dinneen stepped down from his role as CEO in October to become Senior Strategic Advisor as Geoff Cooper was promoted to president.
Dinneen's award was teed up with video clips from friends, colleagues and members of Congress who offered their praise of the "Reverend of Renewables," as he was dubbed years ago by the Wall Street Journal.
Listen to the awards presentation here:
NEC19 Industry Awards