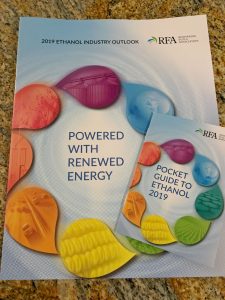 The Renewable Fuels Association (RFA) released its 2019 Ethanol Industry Outlook and Pocket Guide this week at the 24th annual National Ethanol Conference in Orlando.
The annual Outlook publication provides policymakers, regulators, consumers, the media, and renewable fuel advocates with key statistics, trends, insight, and analysis on the latest developments in the U.S. renewable fuels industry, as well as commentary on what to expect in 2019. The publication also features a detailed listing of every fuel ethanol plant in the country, along with production capacity.
The Pocket Guide to Ethanol contains much of the same information as the Outlook, but in an abbreviated format and smaller size.
"For 18 years, RFA's annual Outlook publication has served as the 'Ethanol Bible,' full of the facts, figures, and analysis that inform our advocacy and outreach efforts," said RFA President and CEO Geoff Cooper. "This year's Outlook is especially useful in offering insight into the impacts of small refiner exemptions and trade wars on our markets in 2018, but also highlights the good news of expanded retail offerings of E15 and flex fuels, record ethanol exports, and ethanol's incredible impact on job creation and the economy."
Cooper will be giving his first State of the Ethanol Industry address as RFA President and CEO today at 8:30 am Eastern. The address will be streamed live on the RFA Facebook page and posted here afterwards.s
Click on links for on-line copies of the 2019 Ethanol Industry Outlook and Pocket Guide to Ethanol copies.