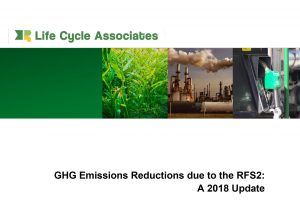 A new study finds that the expanded Renewable Fuel Standard (RFS2) has succeeded in reducing greenhouse gas (GHG) emissions more than the Environmental Protection Agency's (EPA) original expectations.
The analysis, conducted by Life Cycle Associates and commissioned by the Renewable Fuels Foundation, concludes that there has been nearly 600 million metric tons of GHG reduction since 2007, compared to EPA's expectation of 422 million metric tons.
Using the latest available data and modeling tools, the study found that the conventional ethanol consumed in 2018 reduced GHG emissions by 43 percent compared to petroleum, even when hypothetical "land use change" are included. That compares to EPA's initial projections that conventional ethanol would achieve only a 20 percent GHG reduction versus petroleum.
"As this study demonstrates, renewable fuels like ethanol are an incredibly effective tool for reducing GHG emissions," said Geoff Cooper, President and CEO of the Renewable Fuels Association (RFA). "As the new Congress turns its focus to climate change and efforts to reduce GHG emissions, we encourage lawmakers to recognize and build upon the incredible success of the RFS."
The 600 million metric tons of GHG reduction achieved under the RFS is equivalent to the GHG savings that would result from removing roughly half of the nation's automobiles from the road for a full year or shutting down 154 coal-fired power plants for a year, according to EPA.
Life Cycle Associates Managing Director Stefan Unnasch will be presenting this report on Tuesday, Feb. 12 at RFA's National Ethanol Conference in Orlando.
Click here to read the full report.