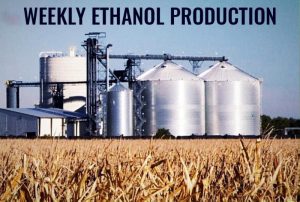 For the week ending January 25, ethanol production was lower while stocks were higher.
According to the latest Energy Information Agency (EIA) data analyzed by the Renewable Fuels Association, ethanol production decreased 1.8% (down 19,000 barrels per day, or b/d) to an average of 1.012 million b/d—or 42.50 million gallons daily. The four-week average for ethanol production remained at 1.023 million b/d for an annualized rate of 15.68 billion gallons. Weekly production was 2.7% lower than the level a year ago, while the four-week average was 1.6% lower.
Stocks of ethanol increased 2.1% to a 15-week high of 24.0 million barrels. The stocks build occurred primarily on the Gulf Coast.