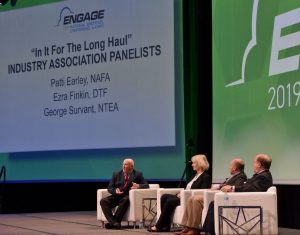 Industry experts from the Diesel Technology Forum (DTF), National Association of Fleet Administrators (NAFA), and National Truck Equipment Association (NTEA) who spoke at the National Biodiesel Conference agree that the forecast for diesel powertrains looks strong and steady.
National Biodiesel Board Technical Director Scott Fenwick moderated a panel on the topic featuring Patti Earley, Florida Power and Light Fleet Fuel Operations Specialist; George Survant, Senior Director of Fleet Relations for NTEA; and Ezra Finkin, DTF Director of Policy and Outreach.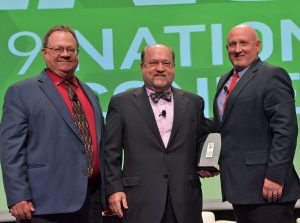 Immediately following the panel discussion, Survant accepted the National Biodiesel Board Industry Partnership Award on behalf of NTEA, which represents more than 2,050 companies that manufacture, distribute, install, sell, and repair commercial trucks.
Presenting the award, NBB Senior Technical Advisor Steve Howell said the partnership with NTEA has been instrumental in getting biodiesel information to the critical audience in the work truck industry.
Listen to the panel discussion here: NBB19 Biodiesel Vehicle Technology panel 1