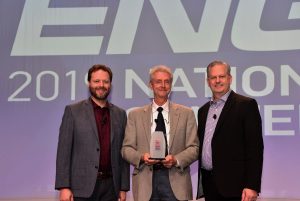 Dr. Stephen Kaffka, Extension Agronomist with the Department of Plant Science at the University of California-Davis, is the recipient of this year's Eye on Biodiesel Inspiration Award. Presenting the award to Dr. Kaffka were National Biodiesel Board Sustainability Director Don Scott and CEO Donnell Rehagen.
Dr. Kaffka has served as an instrumental leader for many years in advocating for environmental stewardship and agricultural sustainability. His passion in these areas have made him a strong influence in the biodiesel industry.
Dr. Kaffka has been a key advisor during implementation of the California Low Carbon Fuel Standard. He participated in California Air Resources Board's (CARB) Indirect Land Use Change Expert Workgroup and the LCFS Sustainability Workgroup. His expertise on agricultural production bridged the gap between the good things that farmers can do, and the environmental metrics desired by the ARB and their stakeholders who place environmental protection as a top priority. As a result, biodiesel producers are participating in an expanding California market while the carbon reduction goals are being exceeded. Dr. Kaffka's work is a prime example of how the biodiesel industry is built on research and sound scientific data, but always needs conscientious experts to communicate that understanding across diverse constituencies.
Audio file – NBB19 Inspiration Award presentation to Dr. Kaffka