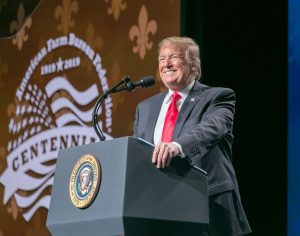 It took a while to get there, but President Donald Trump did mention ethanol in his speech to the American Farm Bureau Federation 100th Annual Convention Monday.
"We're ensuring that ethanol remains a vital part of America's energy future with E15 and we're making it available year round, all 12 months, that's a big difference for the farmers," said Trump. "Chuck Grassley, Joni Ernst, your senators – a lot of great people were very strong on that."
The president also tied that action into the current lower gas prices, which he said "didn't happen by accident."
"We saw $1.75 for gasoline today coming in," Trump said. "I'm in 'The Beast' and I'm looking at gas stations."
It may have been only a brief mention in the one hour address, but it was very much appreciated by ethanol industry stakeholders who tweeted their thanks to the president.
Listen here: AFBF19 President Trump ethanol comments