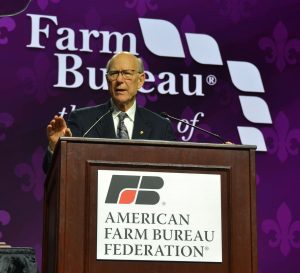 Senate Agriculture Committee Chairman Pat Roberts (R-KS), who just announced he will be retiring from Congress after his current term ends in 2020, addressed some 7,000 members of the American Farm Bureau Federation at the organization's 100th annual convention Sunday in New Orleans.
Known for his caustic wit and straight talk, as well as his dedication to the agriculture community, Roberts served eight terms in the House and this is his fourth in the Senate. He is the first member of Congress to chair the Agriculture Committees in both Houses.
His address to Farm Bureau focused on the 2018 Farm Bill and trade issues, and proved to be as entertaining as ever. He also gave a nice shout out to members of the farm media. "Thank God for the ag press, they tell it like it is, they shine the light of truth into darkness," said Roberts.
Listen here:
AFBF19 Sen Pat Roberts remarks
Roberts also held a press conference for the media where he addressed a number of current topics:
AFBF19 Sen Pat Roberts press conference