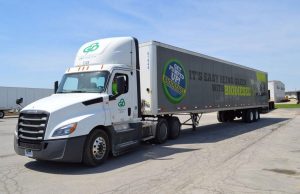 Five biodiesel users recently unveiled new vehicle "wraps" just in time for Christmas, that are helping to share their stories of sustainability and emissions reductions with area residents from Maine to the Midwest, thanks to help from the National Biodiesel Board (NBB).
"Our annual biodiesel vehicle wrap program provides matching funds to help biodiesel users promote their use of America's Advanced Biofuel," said Kaleb Little, NBB director of communications. "This year we were pleased to select five winners whose unique wraps are helping to showcase their commitment to reduced emissions and cleaner air."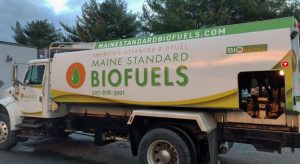 Among the wrap winners this year, Illinois' B20 Club wrapped two box trailers for G&D Integrated, a trucking company based in Morton, Ill. An inaugural B20 Club member, G&D operates more than 400 vehicles on blends up to B20.
Maine Standard Biofuels based in Portland, Maine, wrapped the tank of their new oil truck which travels within 20 miles of Portland providing biodiesel and Bioheat to area customers. The company collects used cooking oil from over 1,000 restaurants and food manufacturers across New England.
Rockwood Summit High School (RSHS) in Fenton, Mo. wrapped their 1992 Ford F250, fondly known as "Old Brownie". The pick-up is used for a biodiesel partnership program called Fuel Wash U. Brownie picks up waste vegetable oil from Washington University's kitchens and transports it to RSHS's facility where the recycled oil is processed into biodiesel.
Coastal Energy, based in Ellsworth, Maine, wrapped four pedal fuel trucks and one transport truck showcasing the HERO BX brand and the company's green fuel initiative.
Broco Oil, based in North Reading, Mass., wrapped two, 6-wheel oil tanker trucks and a 10-wheel fuel oil transport truck that are used for Bioheat delivery to consumers over a 50 mile radius throughout the greater Boston area and the Merrimac Valley area of Massachusetts.