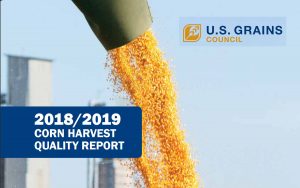 A warm and moist growing season resulted in near-record yields and good quality for the 2018 corn crop, according to the U.S. Grain Council's (USGC) 2018/2019 Corn Harvest Quality Report.
The report revealed the majority of 2018 corn crop conditions were rated as good or excellent during the growing season, leading to strong plant health, good kernel size and a projected crop of 371.52 million metric tons (14.626 billion bushels), the third-largest crop on record. Nearly 94 percent of tested U.S. corn samples rated at U.S. Grade No. 2 or better, thanks to a warm, wet vegetative period and a moderate pollination and grain-filling period. The drier, moderate temperatures during the second half of the growing season promoted healthy plants, good test weights and low kernel damage.
Average test weight of 58.4 pounds per bushel (75.1 kilograms per hectoliter) was higher than the five-year average and indicates good kernel filling and maturation. Average 100-kernel weight of 35.07 grams was lower than 2017, but above the five-year average.
All but one sample, or 99.5 percent of samples, tested below the U.S. Food and Drug Administration (FDA) action level for aflatoxin (20 parts per billion). One-hundred percent of the samples tested below the FDA advisory level for deoxynivalenol (DON), or vomitoxin, for chicken, cattle, hogs and other animals.
The 2018/2019 Corn Harvest Quality Report provides timely information about the quality of the current U.S. corn crop at harvest as it enters international merchandising channels. This information will be supplemented by a second report, the 2018/2019 Corn Export Cargo Quality Report, scheduled for early 2019, that measures corn quality at export terminals at the point of loading for international shipment.