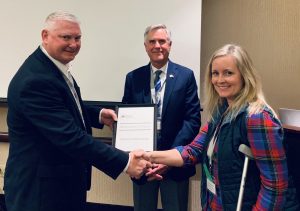 The Minnesota Bio-Fuels Association has named Plymouth Station Holiday as its 2018 Distinguished Retailer.
"Plymouth Station Holiday was one of the first stations in Minnesota to offer E15 back in 2015. Since then they have added E15 at their other station in Plymouth and will soon begin offering it at a new station in New Hope," said Tim Rudnicki, executive director at MN Biofuels.
Besides E15, Plymouth Station Holiday also offers E30 and E85.
Liz Nalezny, owner of Plymouth Station Holiday, is pictured here receiving honor from MN Biofuels president Brian Kletscher and executive director Tim Rudnicki.