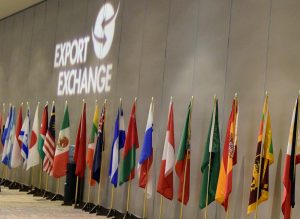 The recent 2018 Export Exchange in October has generated $403 million in sales of U.S. coarse grains and co-products, including distillers dried grains with solubles (DDGS) and feed grains, according to the organizers.
Grain buyers from 35 countries attended the conference in Minneapolis, sponsored by the U.S. Grains Council (USGC), Renewable Fuels Association (RFA) and Growth Energy to offer an opportunity for education and introductions to members of the U.S. grains production and export industries.
Buyers and end-users were polled while at the conference and immediately after regarding purchase agreements with sellers and how much volume (tonnage) they bought. In total, attendees reported sales of approximately 2.1 million metric tons of grains and co-products traded either at the conference or immediately before or after.
The top grain traded during the two-day conference was DDGS, with more than 1.3 million metric tons collectively exchanged. This number translates to just over 11 percent of last year's total U.S. DDGS exports. In addition, buyers reported contracting 619,000 metric tons of U.S. corn and 4,050 metric tons of U.S. sorghum.
The Export Exchange is held every other year so the next event will be in 2020.