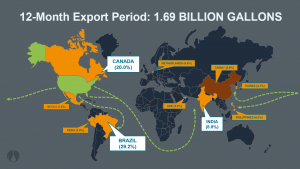 U.S. ethanol exports are on a roll.
For the third time this year, American ethanol exports have reached record numbers, with the total hitting 1.69 billion gallons (bg) on a rolling 12-month basis, according to Growth Energy. As of October this calendar year, exports totaled 1.41 billion gallons, already more than the total for 2017 with an additional two months yet to report.
U.S. ethanol exports totaled 175.4 million gallons (mg) in October, according to the latest government data released last week and analyzed by the Renewable Fuels Association (RFA). This is nearly double (up 95%) September exports and the third highest monthly total on record, only surpassed by February (218.7 mg) and March (215.1 mg) of this year. Shipments were bolstered by the strongest demand for American ethanol in six months by Brazil.
A widespread shuffling of customers occurred in October with Brazil bumping Canada to capture the position of top U.S. customer. Brazil imported 54.5 mg—up 49.1 mg and representing 31% of U.S. export sales—as the sugarcane harvest began to wind down. Canada decreased its offtake by 12%, importing 30.7 mg or 18% of U.S. ethanol shipments in October. India boosted its purchases of U.S. ethanol to a record 29.1 mg for a 17% hold on American ethanol exports. Sales to these three countries represent two-thirds of all shipments in October.
Growth Energy notes that Canada is likely to increase exports in the coming years with the recent announcement by Ontario to move to a 15 percent ethanol-blended fuel mandate by 2025. "Developments such as Canada's commitment to higher blends of ethanol and the growing popularity of ethanol in Brazil should give optimism for the future of the global ethanol outlook in the coming years. President Trump recently signaled there could be a possible resolution to the current trade tensions with China soon, meaning a market for potentially hundreds of millions of gallons could reopen to American producers, which closed in March of this year."