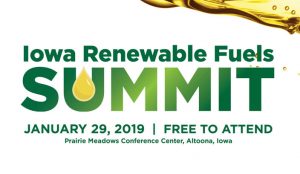 Expert speakers and panelists will explore potential markets for ethanol and biodiesel at home and abroad as well as how the industry can overcome hurdles to growth at the 2019 Iowa Renewable Fuels Summit January 29 in Altoona, Iowa.
"The Iowa Renewable Fuels Summit has become a can't-miss industry event and this year promises to be no different," said Iowa Renewable Fuels Association Managing Director Lucy Norton. "All of the challenges biofuels producers and supporters will face in 2019, from the future of U.S. biofuels policy to trade opportunities and more, will be discussed at the Summit."
The summit will be held at the Prairie Meadows Conference Center in Altoona, Iowa on January 29, 2019. The event is free and open to the public, but registration is required.