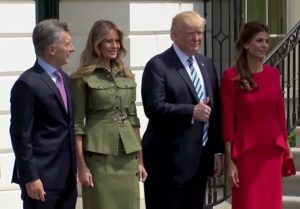 As President Trump headed to Argentina this week for the G20 Summit, three biodiesel stakeholder trade groups wrote him to express concern about the U.S. Commerce Department "changed circumstances" reviews of U.S. trade duties on Argentine biodiesel companies. The National Biodiesel Board, the American Soybean Association, and the National Renderers Association urged the president to ensure that Commerce "undertake a rigorous, comprehensive and transparent review before considering any adjustment to the duty rates it established just this year."
The U.S. Commerce Department imposed antidumping and countervailing duty orders in January and April 2018, following investigations in which the government found that biodiesel imports from Argentina were massively subsidized and dumped, injuring U.S. biodiesel producers.
"Given the importance of this new remedy for American energy and agriculture against unfair imports, it is a mystery that Commerce would open an expedited path for Argentina to reduce or remove the tariffs and resume their illegal imports. This political concession to the government of Argentina would once again distort U.S. markets and undercut crop prices that are only now regaining stability, following other trade disruptions," the groups, which represent stakeholders in U.S. biodiesel production, state in the letter.