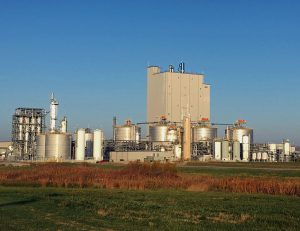 VERBIO North America Corporation (VNA), the U.S. subsidiary of German bioenergy producer VERBIO Vereinigte BioEnergie AG, has completed the purchase of DuPont's Nevada, Iowa-based cellulosic ethanol plant and a portion of its corn stover inventory.
VNA president Greg Northrup says the company will now finalize its plans to install facilities to produce renewable natural gas (RNG) made from corn stover and other cellulosic crop residues at the site. Phase I construction will begin as soon as all appropriate permits have been obtained. VNA plans to use some 100,000 tons of the corn stover inventory to make renewable natural gas.
As part of the transaction, DuPont will repay the state of Iowa $10.5 million of incentives it was granted in 2011 to build the facility and the Iowa Economic Development Board will provide VNA with $1.78 million in tax credits. The board says the investment will go toward converting the plant to utilize the VERBIO RNG technology.