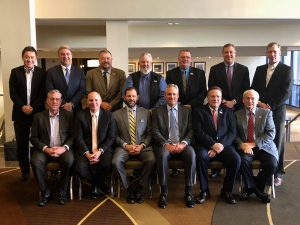 National Biodiesel Board members have elected their trade association leadership for the coming year, reflecting the wide range of member companies in the biodiesel industry from feedstock operations to producers.
NBB members voted to fill eight board member spots for two-year terms:
Troy Alberts, Ag Environmental Products
Rob Shaffer, American Soybean Association
Jeff Lynn, Illinois Soybean Association
Tim Keaveney, Lake Erie Biofuels DBA Hero BX
Mike Rath, Darling Ingredients Inc.
Greg Anderson, Nebraska Soybean Board
Robert Morton, Newport Biodiesel LLC
Tom Brooks, Western Dubuque Biodiesel, LLC
Kent Engelbrecht, Ron Heck, Ryan Pederson, Harry Simpson, Paul Soanes, Robert Stobaugh, and Chad Stone continue to serve on the board. The board also voted to re-elect Engelbrecht as chairman, Stone as Vice Chairman, Pederson as Treasurer, and Heck as Secretary.