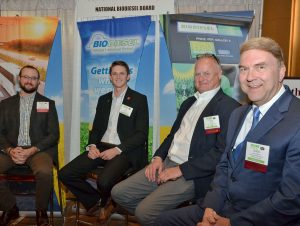 Once again, the National Biodiesel Board (NBB) attended the National Association of Farm Broadcasting annual Trade Talk in Kansas City to do interviews with agricultural reporters around the country on a variety of topics.
Meeting the media were NBB Communications Director Kaleb Little, Nebraska Soybean Market Development Coordinator Cale Buhr, NBB Director of Outreach and Development Tom Verry, and NBB Treasurer and Nebraska farmer Greg Anderson.
In this interview, Little talks about a number of biodiesel issues, including the continuing need to address the biodiesel tax incentive that is always being retroactively renewed by Congress, providing no stability for the industry. He also promotes the 2019 National Biodiesel Conference and Expo coming up January 21-24 in San Diego.
Listen here – NAFB18 Interview with Kaleb Little, National Biodiesel Board
2018 NAFB Convention Photo Album