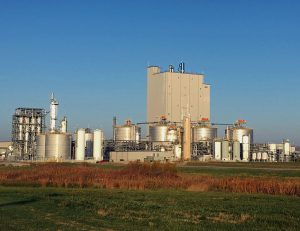 VERBIO North America Corporation (VNA), the U.S. subsidiary of leading German bioenergy producer VERBIO Vereinigte BioEnergie AG (VERBIO), has agreed to acquire the DuPont cellulosic ethanol plant in Nevada, Iowa that was shut down and put up for sale last year.
VNA also purchased a portion of the plant's corn stover inventory and intends to install facilities to produce renewable natural gas (RNG) made from corn stover and other cellulosic crop residues at the site. This would be VERBIO's third production facility devoted to this cellulosic technology – in 2014, the company commissioned its first facility in Schwedt, Germany, and its second facility in Pinnow, Germany is currently being commissioned.
"The DuPont facility in Nevada, Iowa offers excellent infrastructure to construct our first RNG facility outside Germany. We can use part of the installed equipment for our production and there is a solid base of local farmers from whom to procure the raw materials. Once the plant is in operation, it offers the Nevada, IA community new agricultural revenue streams, new employment opportunities and new sources of tax revenues," said Claus Sauter, CEO of VERBIO.
"We're very confident in VNA's ability to take over operations of the Nevada plant." said Jan Koninckx, Global Business Director of Biofuels, DuPont. "This community has been very supportive during our time in Story County. We thank the many people who were instrumental to our operations, and we wish VNA well."
Following its merger with Dow in 2017, DuPont announced a strategic shift within the cellulosic biofuels market and began to seek a buyer for the biorefinery. DuPont continues to participate in the overall biofuels market through specialty offerings, including both first- and second-generation biofuel enzymes and engineered yeast solutions that improve yield and productivity for biofuel producers.