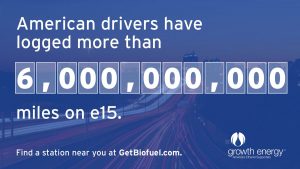 As the administration begins to move toward making E15 available year round, Growth Energy says American drivers have already driven a total of six billion so far on the 15% ethanol blend with no complaints.
"American drivers know a good value when they see it, which is precisely why once they try E15 they come back again and again," said Growth Energy CEO Emily Skor. "E15 provides unrivaled value for engines, the environment, and people's wallets and we're seeing more and more Americans rely on E15 to fuel their lives."
E15 is approved for all 2001 and newer vehicles and major retailers like Kwik Trip, Sheetz, Casey's, Cumberland Farms, Thorntons, Kum & Go, RaceTrac, QuikTrip, Rutter's, Minnoco, Protec Fuel, Murphy USA, Family Express, and Cenex offer E15 at more than 1,600 stations across 30 states.
Skor talked about the new milestone a the National Association of Farm Broadcasting last week –
Growth Energy CEO Emily Skor comments on six billion miles on E15