The popular political commentary luncheon at the 2019 National Ethanol Conference will feature the co-hosts of Showtime's popular political documentary series The Circus.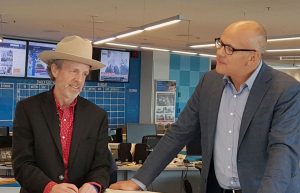 The Renewable Fuels Association (RFA) has announced that John Heilemann and Mark McKinnon will speak together at the 24th annual National Ethanol Conference, Feb. 11-13, 2019, in Orlando.
Heilemann and McKinnon will be the featured luncheon speakers on Tuesday, Feb. 12 for a lively discussion on the 2018 mid-term elections, the 2020 presidential race, and many other political topics. Both are well-known political commentators who collaborated to create and host The Circus, which premiered in 2016 and focused on the 2016 U.S. presidential election, January to November. In 2017 the series centered on President Trump's first 100 days and this year the third season has been following the mid-term elections.
"The Circus has been called the 'wildest political show on earth,' and its fast-paced, behind-the-scenes approach has quickly earned the show a loyal and growing audience," said RFA president and CEO Geoff Cooper. "We're certain this will be one of the most entertaining and provocative luncheons we've had in the NEC's 23-year history."
Registration and more information is available online at NationalEthanolConference.com.