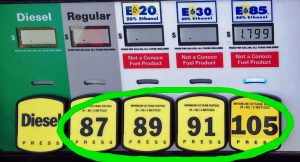 Ethanol stakeholder groups submitted comments Friday to the Environmental Protection Agency (EPA) and National Highway Transportation Safety Administration (NHTSA) on the proposed SAFE Vehicles Rule, emphasizing the benefits for fuel economy and emissions reductions from the use of high-octane fuels, which can be attained with higher blends of ethanol.
"Ethanol delivers the highest octane at the lowest cost, allowing automakers to benefit by continuing to develop high-compression engine technologies and other product offerings to achieve efficiency improvements and reduced emissions," said the American Coalition for Ethanol (ACE), which provided recommendations for removing regulatory barriers restricting market access to high octane midlevel ethanol blends in its comments.
Comments from the National Corn Growers Association urged regulators to consider fuels and vehicles as a system of high-octane fuel used with optimized engines. NCGA also believes high-octane, low-carbon fuel can help support harmonization between federal and state standards.
"The science behind the benefits of midlevel ethanol-blended fuels like E25 and E30 is well documented by national laboratories, automobile manufactures, and scientific institutions," said Growth Energy Vice President of Regulatory Affairs Chris Bliley. "Stable policies and access to market drivers will enable our industry to provide low-carbon, more affordable, high-performing, sustainable vehicle fuel solutions."
The Renewable Fuels Association (RFA) is recommending that EPA and NHTSA should require the gradual phase-out of today's regular grade gasoline and replace it with a fuel-neutral higher-octane standard. "The auto industry and petroleum refiners already support the idea of legislation to raise gasoline octane to 95 RON. But no legislation is necessary to enable more efficient vehicles: Congress has already provided EPA with authority to control octane levels under section 211(c) of the Clean Air Act," RFA explained.