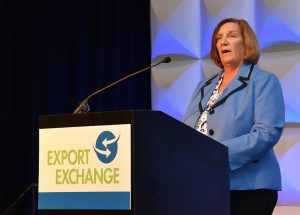 Export Exchange 2018 in Minneapolis this week highlighted the importance of distillers dried grains with solubles (DDGS) for ethanol producers and the U.S. grains export market.
Speakers including Tyson Foods poultry nutritionist Philip Smith, ProExporter senior analyst Bill Holbrook, Renewable Fuels Association Regulatory Affairs Vice President Kelly Davis and Distillers Grains Technology Council's executive director Kurt Rosentrater covered topics such as DDGS and poultry nutrition, export challenges and opportunities, food safety regulations and new products including pelleting, high protein versions and advancing technologies.
Davis discussed the Food Safety Modernization Act and the manufacturing of DDGS. "The U.S. is continuing its lead in food safety," said Davis. "What people normally think of as human food safety has now been extended to animal feed – now called animal food."
DDGS and other ethanol co-products provide a value-added market for the U.S. ethanol industry, being exported to 50 countries on five continents last year and the market is once again on the rise in various parts of the world.
Davis talks about the importance and safety of U.S. DDGS in this interview. Export Exchange 18 interview with Kelly Davis, RFA
Listen to her presentation here:
Export Exchange 18 presentation Kelly Davis, RFA