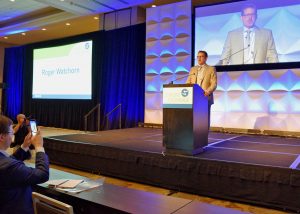 North America is a leader in both trade and increasing food production for the world, trade needs to grow to provide global food security, trade is already complex so we should work to eliminate unnecessary complexities, and we need to think long term when it comes to trade policy.
Those were four key messages that Roger Watchorn, group leader at Cargill Agriculture Supply Chain North America, presented at Export Exchange 2018 in Minneapolis this week.
"North America continues to be a leader in production technologies and a major player in global trade," said Watchorn. "One in seven people worldwide depend on global trade for their basic food needs. We connect farmers with those who need our products around the world…and we are ready to meet those needs."
Export Exchange is a biennial educational and trade forum co-sponsored by the U.S. Grains Council (USGC), the Renewable Fuels Association (RFA), and Growth Energy offering international buyers the opportunity to meet and build relationships with U.S. suppliers of corn, DDGS, sorghum, barley and other commodities.
Listen to Watchorn'[s presentation here and see more from the Export Exchange on AgNewsWire.
Export Exchange 18 presentation Roger Watchorn, Cargill